Rajasthan Govt Calendar 2022-23Pdf Download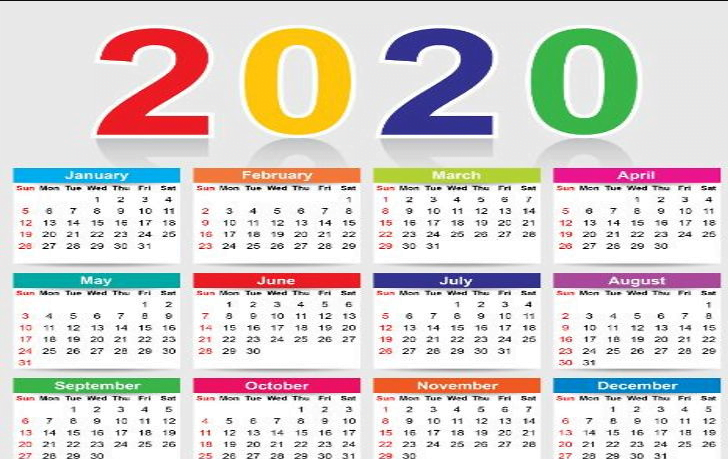 The Government of Rajasthan has released the Rajasthan Govt Calendar 2022 for the next year. The Government has released the Public Holidays list in Rajasthan Govt Calendar 2020. You can check the entire details given below in the Government and Facultative holiday list. You can also check the Rajasthan Govt Sarkari Vacation.
The state government has published the calendar and public holidays of 2023. There are 29 public and 21 elective holidays in the 2020 year. However, the holiday will be for 29 days. Any worker can take two optional holidays during the year.
Apart from this, the district collector can also announce two local vacations at their level. In such a condition, this week will be possible for three days only. The same is the festival of Chetichand on March 25 (Wednesday) and Good Friday, April 10 (Friday). In this case, staff members will also get 3 successive days to leave. Such circumstances will happen nine times in 2020 next year.
Rajasthan Government Public Holidays List 2022
Hello audience, the Rajasthan Government has published its Public Holidays List 2020 year. We are providing below the table of Rajasthan Govt Public Holidays 2020. So, please check it:
Rajasthan Govt Calendar 2023 Pdf Download
January 2020
2nd January Guru Gobind Singh Jayanti (Thursday)
26 January Republic Day (Sunday)
February 2020
21st February Mahashiv Ratri (Friday)
March 2020
9 March Holika Dahan (Monday)
10 March Dhulandi (Tuesday)
25 March Chetichand (Wednesday)
April 2020           
2 April Shri Ram Navmi (Thursday)
6 April Shri Mahavir Jayanti (Monday)
10 April Good Friday
14 April Ambedkar Jayanti (Tuesday)
25 April Parashuram Jayanti (Saturday)
May 2020            
25 May Eid Ul Fitur (Monday)
25 May Maharana Pratap Jayanti (Monday)
June 2020
July 2020
No Govt Leave
August 2020      
01 August Eid Ul Juha (Saturday)
03 August Raksha Bandhan (Monday)
12 August Krishna Janmashtami (Wednesday)
15 August Independence Day (Saturday)
28 August Ramdev Jayanti and Tejaji Jayanti (Friday)
30 August Moharram (Sunday)
September 2020
No Govt Leave
October 2020    
02 October Mahatma Gandhi Jayanti (Friday)
17 October Navratra Sthapna (Saturday)
24 October Durgasthami (Saturday)
25 October Vijaya Dashmi (Sunday)
30 October Baravphat (Friday)
November 2020
14 November Deepawali (Saturday)
15 November Goverdhan Puja (Sunday)
16 November Bhai Dooj (Monday)
30 November Gurunanak Jayanti (Monday)
December 2020               
25 November Christmas Day (Friday)
Rajasthan Govt Calendar 2020 Pdf Download From Here Now (Updated 5 February)
जनवरी 2020 (January Month Calendar 2020)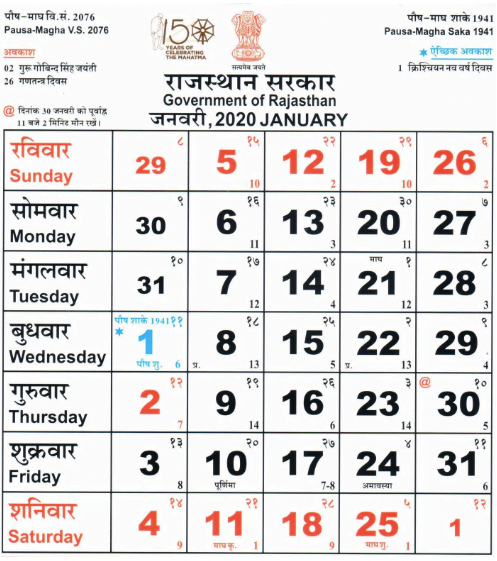 फरवरी 2020 (February Month Calendar 2020)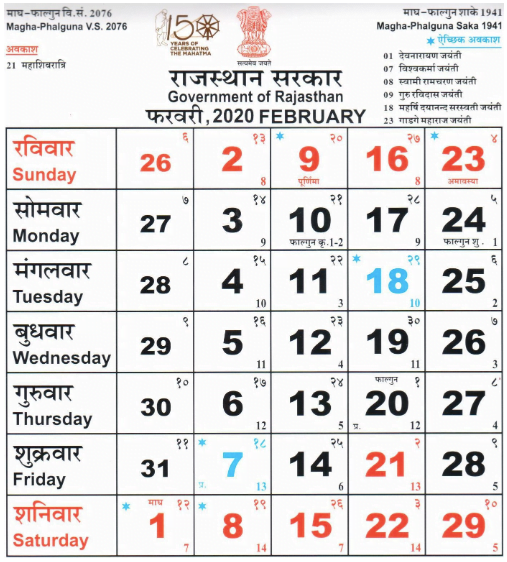 मार्च 2020 (March Month Calendar 2020)
अप्रैल 2020 (April Month Calendar 2020)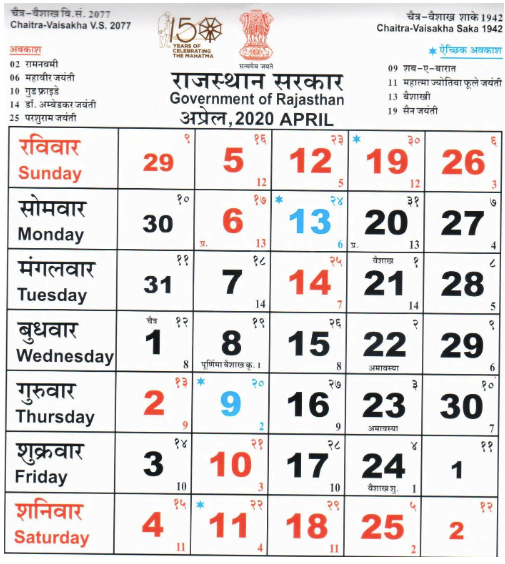 मई 2020 (May Month Calendar 2020)
जून 2020 (June Month Calendar 2020)
जुलाई 2020 (July Month Calendar 2020)
अगस्त 2020 (August Month Calendar 2020)
सितम्बर 2020 (September Month Calendar 2020)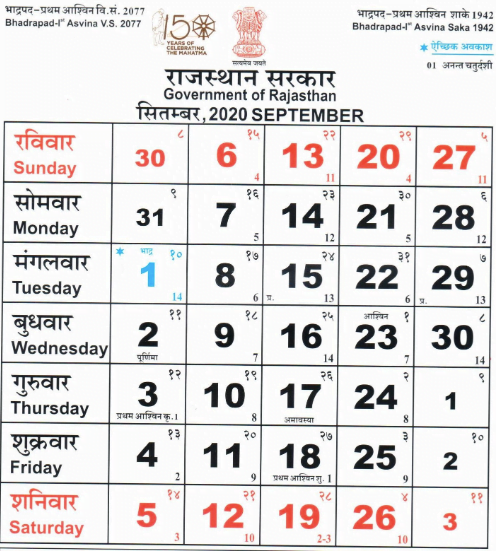 अक्टूबर 2020 (OctoberMonth Calendar 2020)
नवम्बर 2020 (November Month Calendar 2020)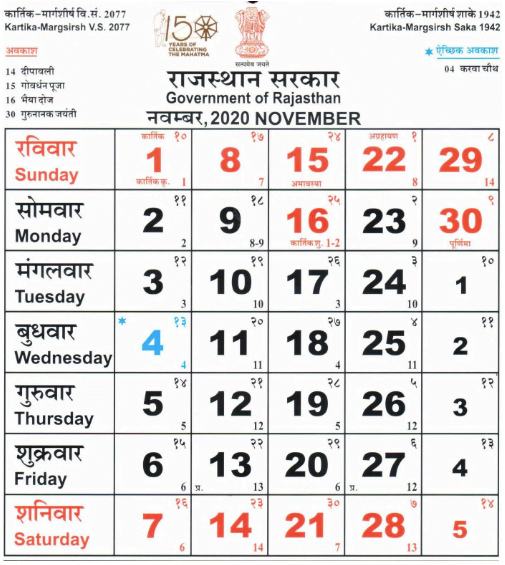 दिसम्बर 2020 (December Month Calendar 2020)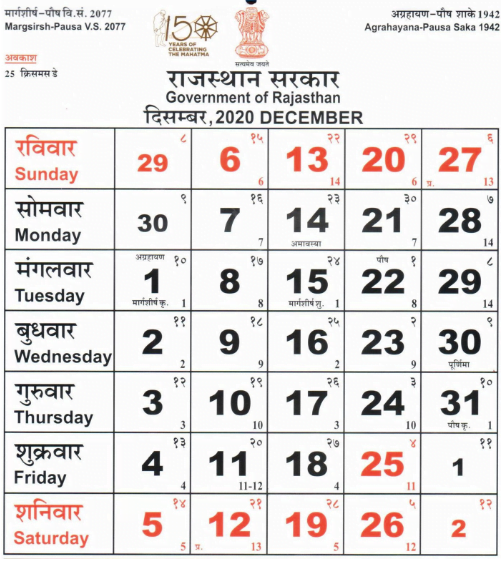 ---