The Book of Prophecy by Sylvia Browne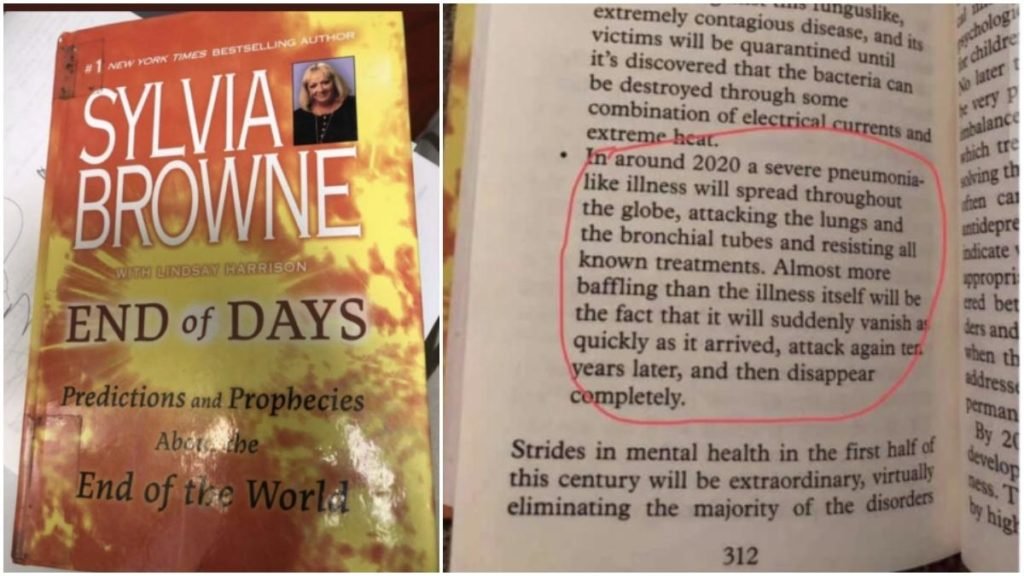 Sylvia Browne wrote a book titled End of Days: Predictions and Prophecies about the End of the World. It was published in 2008 and predicted the outbreak of coronavirus worldwide.
This strange prophecy on the Coronavirus pandemic is trending over the web. She predicted in her book that in 2020, an extreme pneumonia-like illness will extend throughout the world. This illness will damage the lungs and bronchial tubes flouting all recognized treatments.
If we notice, this sickness is having a resemblance to the current spreading novel coronavirus and the disease, Covid-19. The book also mentions that ailment will disappear soon after its advent. It also says this disease will disappear but ten years later; it will attack again and then vanish finally.
Browne died in 2013. She was a psychic and had a huge following.
Grippingly, she also forecasted that a bacterial infection similar to the 'flesh-eating disease' would land in 2010. The sickness was supposed to be 'severely contagious disease' according to her prediction. This happened in 2009-19 when the fatal occurrence of swine flu pandemic killed around 575,000 people globally.
The book of Prophecy by Sylvia Browne is available for purchase online. This book contains several predictions for 2020 including the end of deafness and blindness. It also mentions that 2020 will indicate the finish of the stock market.
The book says that by 2020 there will be the end of mutual funds, pension, IRAs, and retirement plans.
Some of the other predictions for 2020 stated in this book are:
A sitting president will die in office of a heart attack between 2008 and 2020. The Vice-President who takes up the presidency will announce war on North Korea considering his correct belief that the Asian country possesses mass destruction weapons.
The US presidency and the executive branch of the government will end in 2020. America will sense dejected at that time.
Humans will agree with extra-terrestrials by the early 2020s.
People will begin defending themselves from terrorists by the late 2020s. Hazardous air will become the main concern with the advancement of technologies. Consequently, some individuals will begin residing in domed or vaulted cities.
Netizens are completely mystified with the indication of coronavirus occurrence in the prophecy book written by Sylvia Browne.
Coronavirus has spread to more than 50 countries and has killed more than 3,000 people. Health specialists are still searching for medication for Covid-19.
---